Indispensable Kitchen design trends : Giving way to enjoy your Culinary art amidst Covid .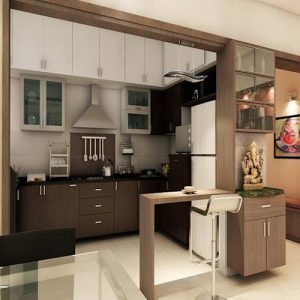 Some studies show that to fight out these difficult times, most people are finding solace in Cooking, reviving their culinary skills.
A lot of people are emerging as chefs, a talent that even they didn't imagine they possessed.
Some are experimenting like mad scientists while others are giving their passion the time that it demanded and exploring.
This brings us to gather newly defined design trends for our Kitchen as Kitchens are the soul of the house.
This space is more than just preparing meals, it encourages the family to assemble and unite.
In a lot of older houses, the kitchen tends to be isolated. Today, people want a kitchen that incorporates both a workspace and a casual space for dining or even working.
1. So exactly what are you looking for in a kitchen?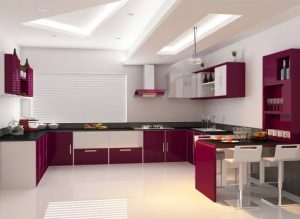 For an efficient workspace, you always want storage, and more storage and even more storage.
You want some basic parameters to separate the wine-drinking guests from the actions in the kitchen.
2.How to create a kitchen that incorporates both a workspace and a casual hanging-out space?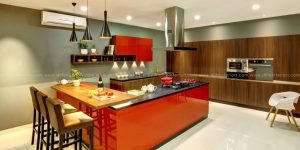 An island is the standard way to do this or a breakfast table nearby, depending upon the particularities of the layout.
It can also be done by creating a little breakfast area in the kitchen with a built-in casual seating for a living-room-like feel.
The two spaces need to be fused together so that they don't look as if they are imposed on one other.
3.Do you want the kitchen triangle?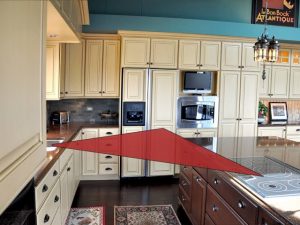 Instead of a traditional triangle layout , creating a work area that goes from fridge to sink to stove, with several paces between can be the design answer.
The fridge and the sink need to be linked, but the cooking section can be a little more isolated or independent.
4.What can be a good Countertop material?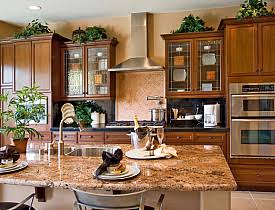 There's no perfect countertop as such : Use organic materials like Carrara marble, the whiter the better, but you have to seal Carrara with Porous Plus by Miracle.
For ultra-modern look you can use concrete surfaces.
Other better options for Indian kitchens are GRANITE and QUARTZ.
5. Upper cabinets: yes or no?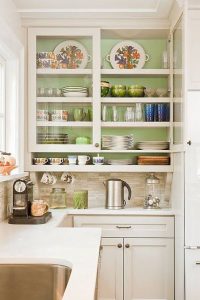 Upper cabinets are practical; you can make the cabinet fronts solid and uniform. Glass-fronted cabinets create depth and make the kitchen feel more spacious. If you go with this option, you need to think about the glasses and plates inside—as it will need visual coordination.
You can put in obscure (frosted or ridged) glass, but that only goes so far—the Disney mugs will still be visible.
6.Any Other key elements ?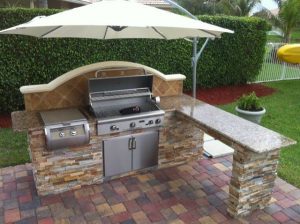 An exterior space is a big bonus; it's nice if you can add a deck and create a place to eat outside or have a barbecue.
7.How to achieve Hygiene dynamics?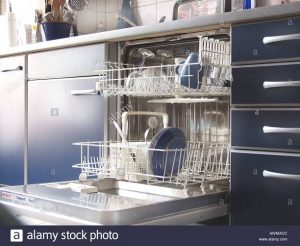 This pandemic has also made us reflect on the importance of the strictness of hygiene standards at home and especially in the kitchen.
In addition to resuming the sacrosanct habit of washing our hands before eating and after arriving home, more essential now is washing your hands methodically while using your kitchen.
 
Cleaning before and after cooking. If before the coronavirus crisis, the kitchen demanded constant cleaning, going forward the kitchen will be treated almost as an operating room. It's common to read that among the current recommendations is the disinfection of surfaces before preparing meals and after doing so as well. It's even suggested to use products with antibacterial properties and special soaps in this room of the home.
Choosing cooking utensils. While nothing can seem to replace a wooden spoon to cook, after the pandemic it's very likely that this utensil will probably be forgotten since wood is a porous material that can easily store microorganisms.
The demand for dishwasher will increase. Thanks to its disinfection and drying functions, the dishwasher has started to become the most appreciated appliance in the house.
Advantages such as water and energy savings will add to the possibility to prevent utensils, cutlery and dishes from being potentially contaminating.
Using more than one kitchen towel. This practice not only prevents cross-contamination, but also prevents microorganisms from expanding.
8.Microwave and Ovens?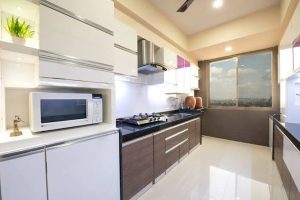 They are unsightly and need to be considered early in the planning decision. They can be accommodated in a pullout shelf or behind an island.
Miele makes an attractive in-wall Speed Oven that serves as a second oven and microwave.
Inbuilt microwave and ovens are best alternatives for neat and functional look.
9.Storage solutions?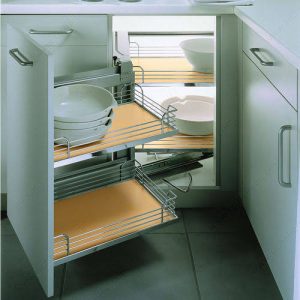 Use tall pullout storage drawers as they store a lot. Different size pantry units are available in the market. There is no perfect solution for corners, but you can choose available options like fish carousal or magic corner. A stainless pan under the sink so when it drips (it will at some point), the water is contained.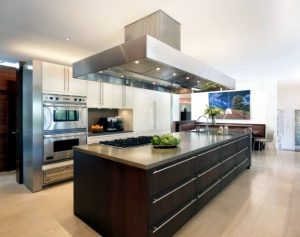 Consider these trends in today's context:
1. Plan your budget. There are a lot of line items, and if money is tight, then splurge on what is most important.
You need cabinets and a fridge, but if you cook a lot, go for the Wolf Range or go for the best you can afford.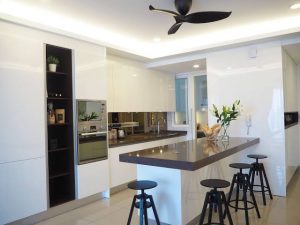 2. Light is a desirable design elements in a kitchen.
There is a real benefit to a sink with a view.
Well lighted kitchen gives no room to pests and other uninvited guests.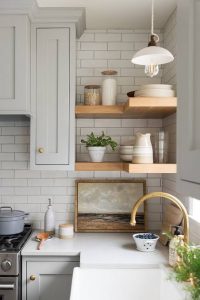 3. Design of a big huge Windows in your kitchen for ingress of sunlight is essentially required.
To make Kitchens an enjoyable space, a view and natural light; plenty of countertop space to work on, nice things to cook and work with, a few friends, laughter, music will all add up the fun.
The kitchen would need to be part of an ensemble of spaces that would include an equally wonderful dining space.
Definitely, in the future the kitchen trends will be designed as a space quite different from what we possess today.
Let go of all the apprehensions and indulge in making your favorite cuisine with your new well equipped kitchen.
Concept by: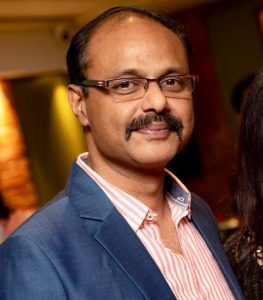 Ar. Manish Kainth
Architect and Interior designer.
Contact #9810028893
Written by: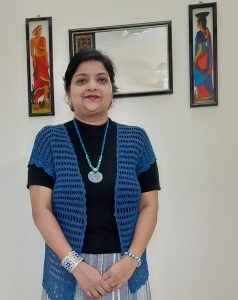 Ar. Rachna Tiwari
Architect and Consultant