Your Sofa is your new Multiplex:
KEEPING CINEMA ALIVE IN THE AGE OF CORONAVIRUS.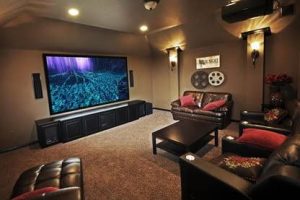 Can't go to the cinemas to watch your favorite flicks first day first show?
If you are a movie buff all you need is a handy home projector and the simple basic guide below in building your own home theatre system.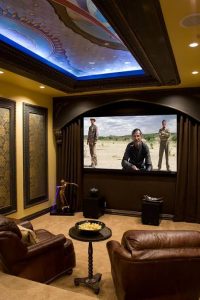 Cinemas were among the first public places to shut down during the outbreak. Yet cinema provides exactly the kind of escapism the public demands at times like these.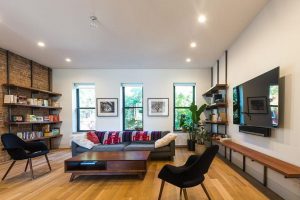 Hit by lockdown, Indian film industry will lose an estimated Rs 2,500 crore.
The majority of privileged Indians have stayed indoors and followed the lockdown rules. With more time at hand, people turned to Netflix and Amazon Prime Video and other streaming services like never before.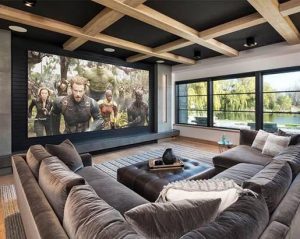 However, even as the lockdown ends and life slowly gets back to pre-Covid normal, it is unlikely that most people will go back to their habit of watching movies in big screens of cinema halls.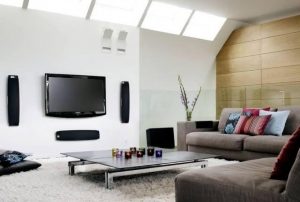 Nowadays, as technology becomes increasingly affordable and easily available, building a home cinema isn't just an option for the wealthy. In fact, you can easily build a home theatre on the cheap side and still experience the luxury of a home cinema.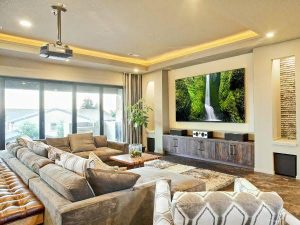 You can choose any of your favourite room to convert into home theatre like, living room, family lounge, lobby, basement or your master bedroom.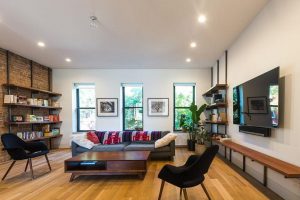 Planning the desired location for your home cinema always comes first. All you require is a 10×10 room with adequate space for all the necessary components. It's advisable that you select a room with only a smaller number of windows since sunlight passes through the glass and reflects on the TV screen. However, if you want to turn your basement into a theatre, you may have to ask help from a contractor to water proof all surfaces to avoid leaks and short circuit issues.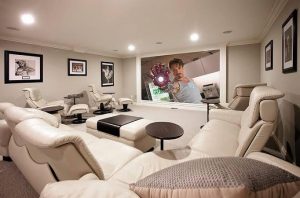 So here are some ways to Turn Your Living Room or any room into a Home Movie Theater:
Start with the basic elements
# Surround sound system
# A Large HD smart television
# A broadband or high speed internet connection
# Seating arrangement
# Mood Lighting
# Acoustic control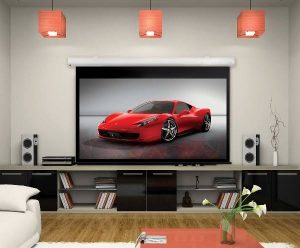 1. Choosing Your Screen:
When choosing a screen for your home theatre, you can either opt for a Large smart HD TV or a projector.
When buying a TV, make sure it's at least 60". You can opt for a larger screen as long as you can afford it. Remember to look for a 4K resolution smart TV that is HDR compatible for superior contrast and display.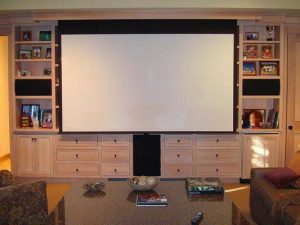 2.Decorate Around Your TV:
Most screens can integrate discretely into your living room. Consider placing a box TV in a unit or console, allowing you to hide it behind closed doors when not in use. Flat screens can elegantly blend into surroundings. Hang it among other wall art or amid bookshelves that span the wall. Or consider placing it above your fireplace.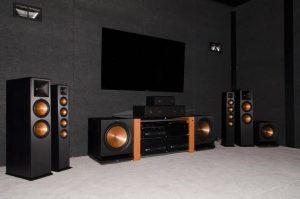 3.Deciding On Your Audio System:
One of the most crucial aspects of setting up any theatre system is ensuring that it has a great audio system. This can make or break the entire feel of your home cinema.
You can choose between 5.1 or 7.1 surround system setups. The 5.1 system is the more traditional setup, which means that it contains five speakers: left, right and center, and the remaining two at the rear of the room, or surround speakers. The 7.1 setup, which tends to be more costly, consists of additional right and left surround speakers for a better audio system.
While wireless technology still isn't perfect, movies from your TV or computer screen can be piped throughout the room without the hassle of extra cords. Even if you're not ready for wireless, you can add speakers on the opposite side of the living room from your screen, imitating a theater's balanced sound.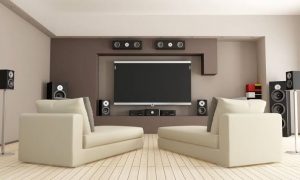 4.Get the Seating Right:
With your TV screen in place, arrange the living room to create views from any seat. The main seating area, such as a couch, recliner or sectional, should face the screen to give the room balance and provide for optimal viewing. Consider how your other furniture can transition from living room positioning to movie-watching mode. Where a pair of reading chairs are best positioned facing the couch to create a gathering area, these chairs can be rotated to give a front-row view of the film. Choose a soft high-pile RUG for look, comfort and acoustics. Add a pile of large upholstered pillows to the floor for an elegant lounge area, choosing a soft high-pile option can add another layer of seating.
Don't Forget the Refreshments
Incorporate furniture into your living room that can double as a platform for concessions. A low coffee table that elegantly displays books by day can be ideal for that big bowl of popcorn and gummies during showtime. Mix dinner and a movie by using the coffee table or long side table as a buffet. Smaller end tables allow a place for guests to set their drinks or treats, lessening the likelihood that something will get knocked over. For a more casual living room, a bar cart or even a coffee machine can add a fun twist to the room.
imitating a theater's balanced sound.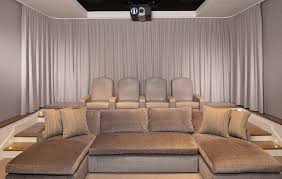 5. Soundproofing The Room:
If you have decided on building a home cinema, you have probably heard about the importance of acoustics. For a top-notch home cinema experience, you need to ensure that the sounds being transmitted from your audio system sound pleasant and enhance your overall viewing experience. This is why we strongly suggest soundproofing your living room!
First off, know that all the surfaces in the living room need to absorb rather than reflect the sound waves. To achieve this, you need to insulate the room by, for instance, installing acoustic panels on the walls, acoustic tiles on the ceiling, Heavy curtains, lots of upholstery and plush carpet on the floors.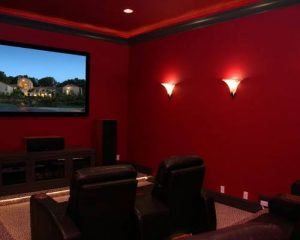 6. Painting the walls in appropriate color:
If the walls of your theatre are of a bright color, you may repaint them with a different darker shade to reduce light. Avoid using colors that are too dark such as; grey, brown and black. By virtue of color psychology, dark colors are depressing so you might not want to see the rest of your family members or friends looking down and sleepy whether the lights are turned on or off.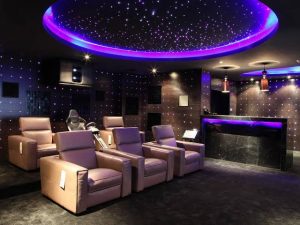 In assembling the above don't go breaking your bank. Upgrade gradually and learn how to build a home theater which does not go over -budget.
The trick is finding the right balance, and getting the most out of each component and enjoying the experience of a Great Home Entertainment System.
Concept by: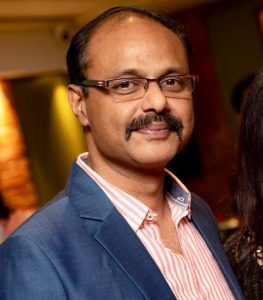 Ar. Manish Kainth
Architect and Interior designer.
Contact #9810028893
Written by: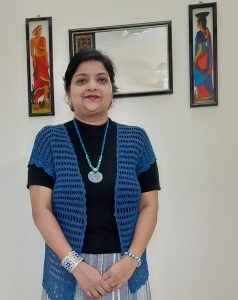 Ar. Rachna Tiwari
Architect and Consultant